On October 13, 2021, Abbisko Cayman Limited successfully landed on the Main Board of Hong Kong Stock Exhange (Stock code: 2256.HK, hereinafter referred to as "Abbisko Therapeutics"). Based on the offer price of HK$ 12.46 per share, the market capitalization of the Company was HK$ 8.753 bilion. Due to the impact of No. 8 Gale in Hong Kong, the share trading officially starts on October 15.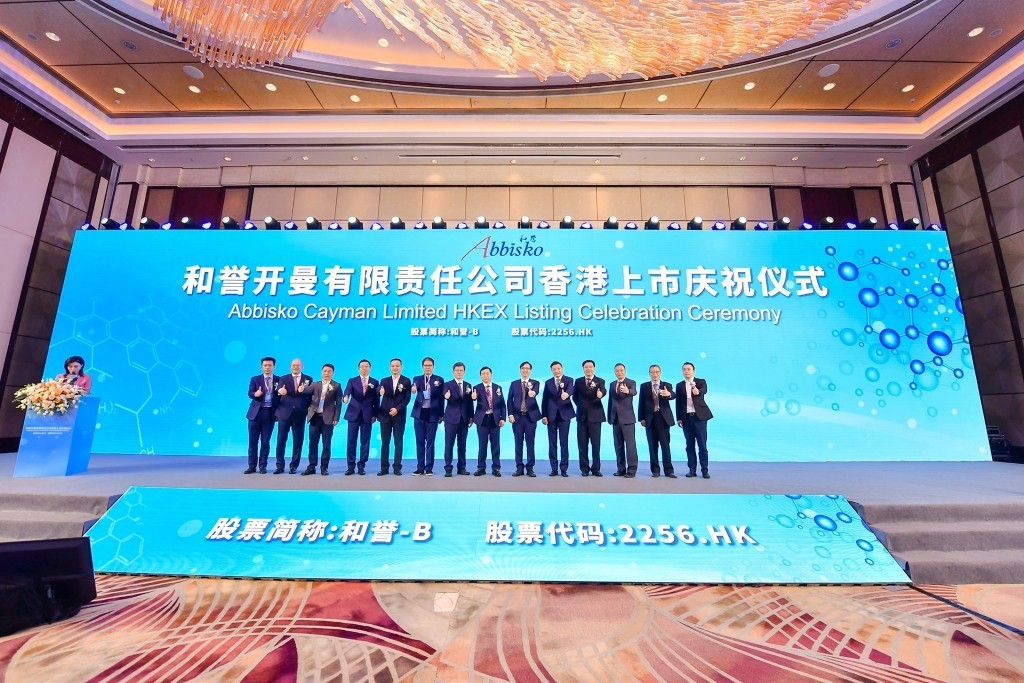 Founded in 2016, Abbisko Therapeutics is a clinical-stage biopharmaceutical company dedicated to the discovery and development of innovative and differentiated small molecule oncology therapies, addressing critical unmet medical needs for patients in China and globally. Since the Company's inception, it has strategically designed and developed a pipeline of 14 oncology drug candidates, including 5 candidates at clinical stage. So far Abbisko Therapeutics has obtained 9 IND approvals in 4 countries and regions.
Rich product pipeline and industry-leading R&D capability
With 9 drug candidates for precision oncology and 5 drug candidates for immuno-oncology, Abbisko has a rich product pipeline and strong R&D capability. In terms of precision oncology, Abbisko has developed five iterative FGFR candidates including Core Product Candidates ABSK011 and ABSK091, which aim to improve the treatment of a wide range of FGFR-related tumors and other diseases by increasing options, overcoming drug resistance and addressing other problems. According to Frost & Sullivan, Abbisko has one of the largest FGFR pipeline portfolios in the world.
ABSK011, a Core Product Candidate of Abbisko, is a potent and highly selective small molecule inhibitor of fibroblast growth factor receptor 4 (FGFR4), developed for the treatment of advanced hepatocellular carcinoma (HCC) with FGF19/FGFR4 pathway activation.
For ABSK011, we obtained IND approval for a Phase Ia/Ib trial from the TFDA (Taiwan Food and Drug Administration) in December 2019 and a Phase Ib trial approval from the NMPA in February 2020, respectively. We have completed the Phase Ia clinical trial in Taiwan and initiated a Phase Ib clinical trial in mainland China, and dosed the first patient in June 2021. We are also initiating the Phase II study of ABSK011 in combination with the Roche anti-PD-L1 antibody atezolizumab in late stage HCC patients with FGF19 overexpression.
ABSK091 (AZD4547), another Core Product Candidate of Abbisko, is a highly potent and selective inhibitor of FGFR subtypes 1, 2 and 3, developed for the treatment of multiple solid tumors, including urothelial cancer, gastric cancer, cholangiocarcinoma and lung cancer.
In December 2020, we received the IND approval from the NMPA for Phase Ib/II clinical trials of ABSK091 for the treatment of patients with urothelial cancer harboring FGFR2 or FGFR3 alterations in mainland China as well as patients with late stage advanced solid tumors. We completed a Phase I study of ABSK091 in Taiwan in February 2021. We are now initiating a Phase Ib trial of ABSK091 in mainland China for advanced solid tumors and a Phase II trial for urothelial cancer.
Strong platform technology and obvious differentiation advantage
Leveraging experienced discovery team and rigorous discovery approaches, Abbisko has developed two platforms of small molecule precision oncology therapies, and small molecule immuno-oncology therapies with rich and highly innovative programs. The platform of precision oncology therapies has expanded to the innovative programs for multiple carcinogenic mutations, such as KRAS and EGFR, in addition to the highly globally competitive multi-generation FGFR candidates. For the platform of immuno-oncology therapies, Abbisko has established a small molecule immuno-oncology pipeline of five drug candidates, targeting major tumor immune cell types, such as myeloid-derived suppressor cells, Th17/Tc17 cells, tumor associated macrophages, Treg, and effector T-cells.
ABSK021 is an orally, highly selective and highly potent small molecule CSF-1R inhibitor with the potential to treat multiple tumor types and other diseases. ABSK043 is an orally bioavailable, highly selective small molecule PD-L1 inhibitor that may address the disadvantages of anti-PD-1/anti-PD-L1 antibodies, such as lack of oral bioavailability, limited blood-brain barrier permeability, and immunogenicity. ABSK081 was the only orally bioavailable CXCR4 (CXC chemokine receptor 4) antagonist in clinical development globally. ABSK051, whose pre-clinical studies are underway, is a small molecule CD73 inhibitor with the potential to treat various tumor types including lung cancer, pancreatic cancer and other cancers. ABSK031 is an orally bioavailable small molecule RORγt agonist being developed for the treatment of various solid tumors.
Experienced management team, attracted prestigious Cornerstone Investors
Talent is a core competency for sustainable growth. Abbisko has assembled an experienced management team of renowned experts and seasoned industry professionals to rapidly develop and commercialize drug candidates and achieve sustainable business growth.
Our founder and Chief Executive Officer Dr. XU Yao-Chang, a seasoned drug innovator and entrepreneur, has accumulated more than 25 years of drug discovery expertise, and has made contributions to the discovery of approximately 50 programs which led to the commercialization of six drugs. Dr. YU Hongping, one of our co-founders and Senior Vice President of Chemistry, has had more than 20 years of experience in leading global and domestic pharmaceutical companies; Dr. CHEN Zhui, one of our co-founders and Senior Vice President of Biology, has had more than 15 years of industry experience in several global pharmaceutical companies. Mr. YEH Richard, our Chief Financial Officer and Head of Strategic Operations, has had more than 20 years of industry experience in equity financing especially relating to the biotech and pharmaceutical industry. Dr. JI Jing, our Chief Medical Officer, has had more than 25 years of experience as a physician in a medical institution and a medical leader in various multinational biopharmaceutical companies. Mr. LI Yongyi, our General Counsel, has had more than ten years of experience in international law firms and multinational healthcare companies. Dr. XIE Kewei, our Chief Business Officer, has had more than 25 years industry experience, including at global pharmaceutical and healthcare companies. Dr. ZHANG Zhen, our Vice President and Head of CMC, has had more than 10 years of experience in other multinational pharmaceutical companies. The complementary nature of our management in industry and academia has set us apart from peers and will continue to drive us ahead of them.
In addition, Abbisko introduced 11 Cornerstone Investors for this IPO, including LAV, UBS Funds, BlackRock, Warburg Pincus, Temasek, OrbiMed, Vivo Funds, Hudson Bay, Lake Bleu, Janchor Partners, AIHC. The investment and support from these well-known Cornerstone Investors show their recognition of our capabilities and prospects.
In terms of market potential, in 2020, the global oncology drug market reached US$150.3 billion, and is expected to reach US$304.8 billion and US$482.5 billion in 2025 and 2030, respectively, with a CAGR of 15.2% from 2020 to 2025 and 9.6% from 2025 to 2030. As a leading company in this industry, Abbisko will continue to benefit from the rapid development of this industry in the future, and we believe that Abbisko will surely start a new takeoff after its IPO.