August 28, 2020, Shanghai—Sansure Biotech was listed and started trading on the STAR market of the Shanghai Stock Exchange today. Sansure (688289.SH) issued 24.8 million shares at a public offering price of ¥50.48 per share, raising RMB 2.02 billion.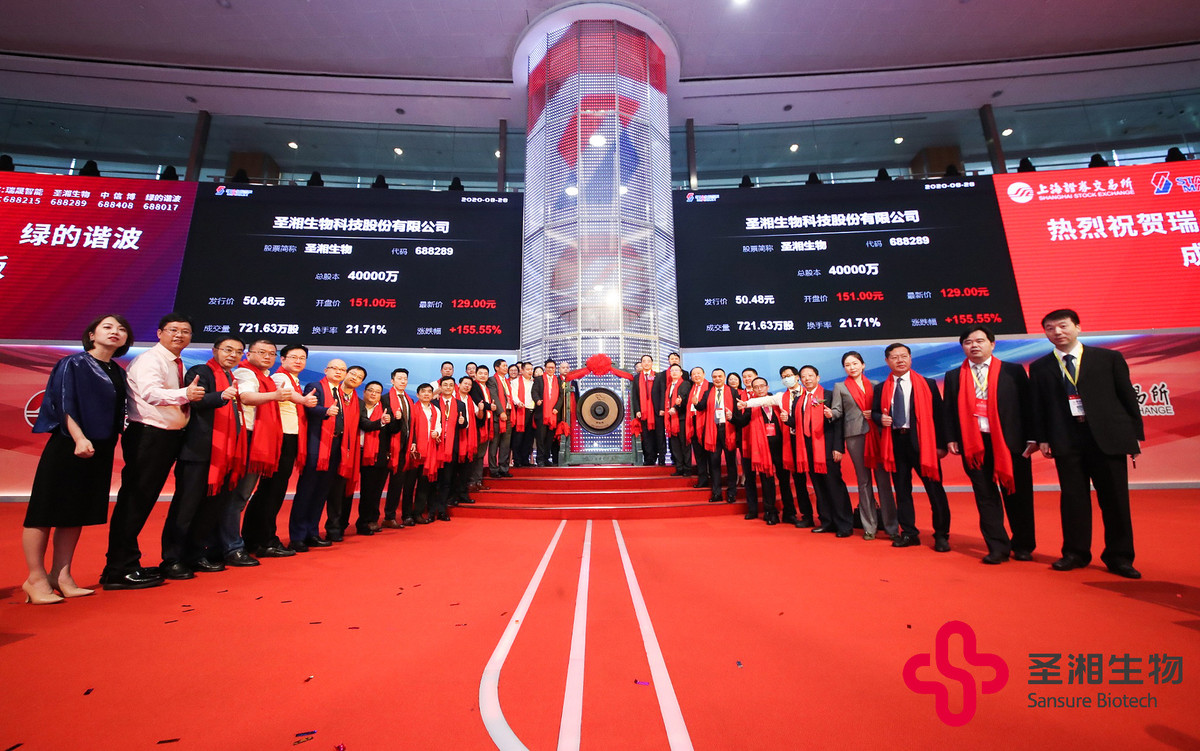 Headquartered in Changsha High-tech Zone, Sansure is an in vitro diagnostics (IVD) total solution provider with the proprietary, innovative nucleic acid technology as its core strength, integrating research and development, production and sales of diagnostic reagents and instruments, and providing third-party diagnostic services.
As one of the leading IVD companies in China, Sansure strives to solve the pain points of the industry, and to improve molecular diagnostics in precision, ease of use, automation, mobility, and integration. Sansure's key technology platforms include "high-precision magnetic bead method", "one-step detection", "automated liquid handling", "POCT mobile molecular diagnosis", etc. By integrating these technologies, Sansure Biotech has launched more than 300 diagnostic products including viral hepatitis series, reproductive tract infections and genetics series, pediatric infections series, respiratory infections series, and nucleic acid blood screening series.
Equipped with rapid product development capabilities, upon the emergence of the new coronavirus pandemic in 2020, the company developed accurate, fast, easy-to-use and high-throughput SARS-CoV-2 nucleic acid detection kits in a very short period of time, and quickly obtained the emergency approval by the NMPA. Since then, the company's SARS-CoV-2 detection products have been supplied to the front line of epidemic prevention and control in more than 30 provinces in China. As of June 30, 2020, nearly 39 million units of Sansure's SARS-CoV-2 kits had been shipped worldwide, of which about 13.8 million were supplied to foreign countries. Sansure has made significant contributions to the global fight against the COVID-19 pandemic.
Lilly Asia Ventures (LAV) led the B round financing of Sansure in 2017. Sansure's mission is to provide affordable and reliable molecular diagnosis products to people around the world. LAV is proud to help Sansure to realize its vision.