November 9, 2020 – RemeGen, a Yantai, Shandong-based biotech, debuted on Hong Kong Stock Exchange. RemeGen (9995.HK) issued 76.5 million shares at a public offering price of HK$ 52.10, raising HK$ 3.99 billion or $515 million in one of the largest biotech IPOs ever produced.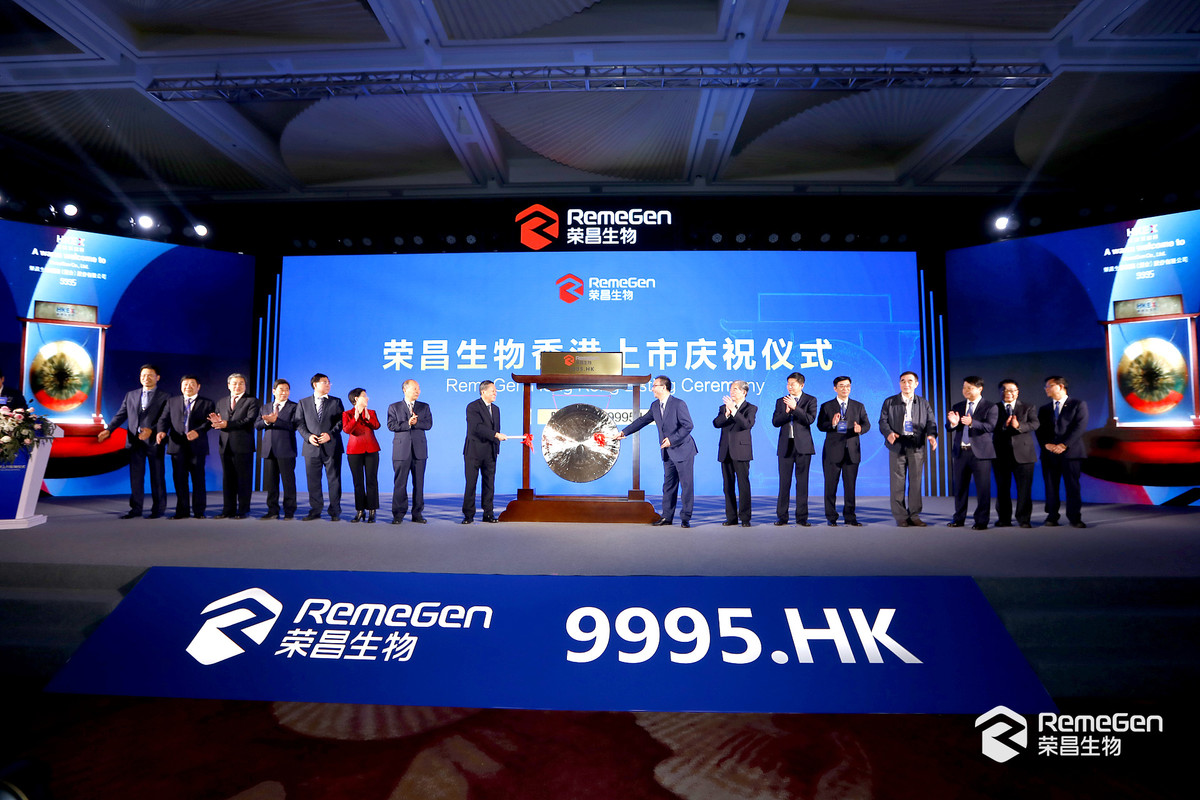 RemeGen debuts on HKEX (source: RemeGen)
Founded in 2008, RemeGen is building a pipeline of over ten novel mAbs, fusion proteins, antibody-drug conjugates (ADCs) and bifunctional antibodies. Two of its candidates are under NDA review in China: telitacicept (RC18) for autoimmune diseases (systemic lupus erythematosus, or SLE) and disitamab vedotin (RC48) for HER2 cancers.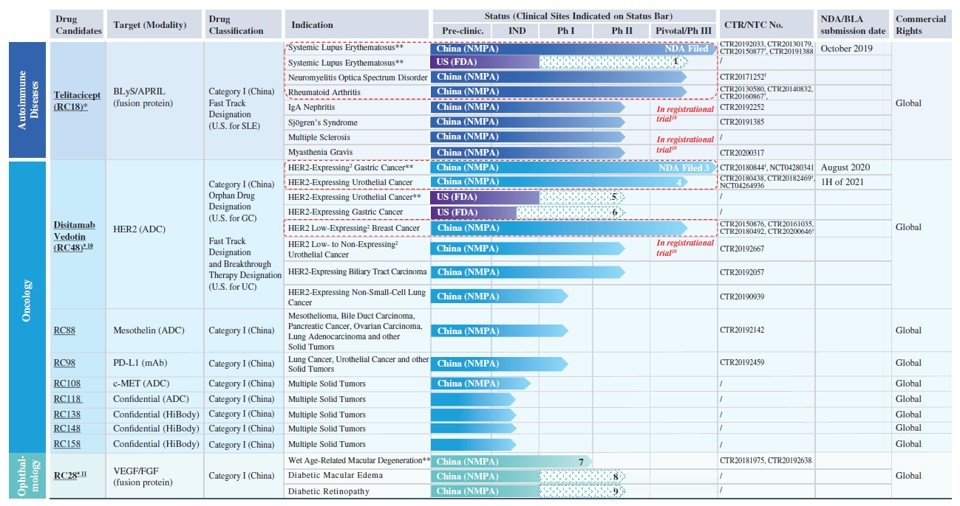 RemeGen's pipeline (source: RemeGen's global offering)
Telitacicept is a fusion protein that binds to BLyS (B lymphocyte stimulator) and APRIL (a proliferation-inducing ligand), two important cell-signaling molecules implicated in B cell-mediated autoimmune diseases. Disitamab vedotin, meanwhile, works as an antibody-drug conjugate targeting HER2 cancers, with an initial focus on gastric cancer, urothelial carcinoma (UC) and HER2 low-expressing breast cancer.
Both programs are also advancing clinically in the US. The FDA granted telitacicept Fast Track designation in April 2020, and disitamab vedotin Fast Track designation in July 2020 and Breakthrough Therapy designation in September 2020 for UC. Disitamab vedotin also received orphan drug designation from the FDA for GC.
RemeGen's third core program is RC28, an IgG1 fusion protein targeting both VEGF and FGF pathways in eye conditions including wet age-related macular degeneration (wet AMD) and diabetic macular edema (DME). It is being evaluated in a Phase Ib study in wet AMD. A couple of Phase II clinical studies in DME and diabetic retinopathy (DR) are also to be initiated in several months.
References:
RemeGen's Global Offering (http://www1.hkexnews.hk/listedco/listconews/sehk/2020/1028/2020102800023.pdf)