December 21, 2020 – Jacobio Pharmaceuticals, a clinical-stage biotech company focusing on the in-house discovery and development of innovative oncology therapies, debuted on Hong Kong Stock Exchange. Jacobio (1167.HK) issued 96.5 million shares at a public offering price of HK$ 14.00, raising HK$ 1.35 billion or $174 million.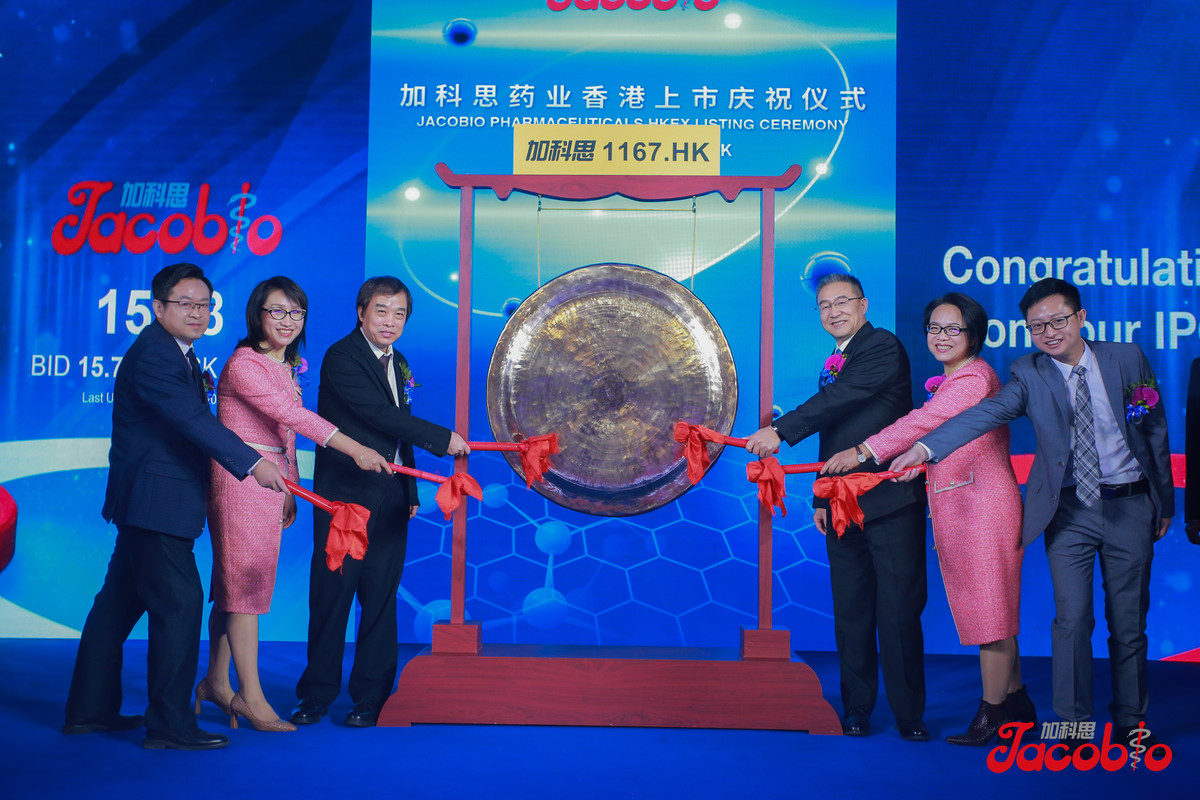 Jacobio Pharmaceuticals (1167.HK) debuted on Hong Kong Stock Exchange.
Established in July 2015, with R&D centers located at both Beijing and Boston, Jacobio develops small-molecule drugs to modulate enzymes by binding to their allosteric sites. For cancer indications, an allosteric inhibitor binds to the sites on the target enzyme other than the active site that catalyzes the chemical reaction, changes the conformation of the active site, prevents the enzyme from binding to the substrate, inactivates the enzyme, suppresses the key signaling pathways driving certain cancer types, and thus inhibits tumor growth.
Jacobio's lead drug candidates include two clinical-stage, allosteric SHP2 inhibitors: JAB-3068 and JAB-3312. Jacobio has entered into a global strategic collaboration with AbbVie to develop and commercialize the SHP2 inhibitors, including these two drug candidates. Jacobio has exercised the option to retain the exclusive rights to develop SHPs inhibitors in China.
SHP2 acts as an important regulator of growth and survival for cancer cells. It exerts regulatory functions primarily through the activation of RAS/RAF/MEK/ERK signaling pathway by transducing intracellular signals from multiple upstream receptor tyrosine kinases (RTKs) to RAS. In addition, SHP2 is a key mediator in the programmed cell death 1 (PD-1) and B- and T-lymphocyte attenuator (BTLA) immune checkpoint pathways. Thus, inhibiting SHP2 may not only suppress tumor growth but also block immune checkpoints, promoting anti-tumor microenvironment.
For JAB-3068, Phase I dose finding portion in the Phase I/IIa clinical trial in China and patient enrollment of dose escalation cohorts in the Phase I trial in the US have been completed. The interim results of the U.S. Phase I trial showed no significant adverse events in treatment groups of 32 patients receiving JAB-3068 up to 300 mg daily dose (150 mg twice daily or 300 mg once daily) as of July 24, 2020. Seven out of 11 patients in the 300 mg daily dose group achieved stable disease (SD), and the disease control rate (DCR) is 63.6%. Out of the 8 patients at 300 mg daily dose who had received anti-PD-(L)1 therapy in the past, 5 (62.5%) achieved SD and all of those 5 patients were resistant to prior anti-PD-(L)1 treatment.
JAB-3068 is currently being evaluated against three solid tumor types in a Phase IIa trial in China. JAB-3312 is being evaluated in separate Phase I trials in both China and the US. In the U.S., JAB-3068 and JAB-3312 both have received orphan drug designations (ODD) from the FDA for the treatment of esophageal cancer (including esophageal squamous cell carcinoma, or ESCC).
Jacobio's pipeline.
Source: Jacobio's Global Offering
Lilly Asia Ventures (LAV) was the lead investor in Jacobio's B round financing in 2017 and has been supporting Jacobio ever since. LAV was also one of the cornerstone investors of this IPO.
Reference:
Jacobio's Global Offering