On October 20, 2023, IMPACT Therapeutics presented, in the form of proffered paper presentation, the pivotal Phase 3 clinical data for Senaparib, a PARP inhibitor, as first-line maintenance therapy in advanced ovarian cancer patient at the European Society for Medical Oncology (ESMO) Congress 2023. Senaparib New Drug Application for this indication has been accepted for review by the China National Drug Administration (NMPA).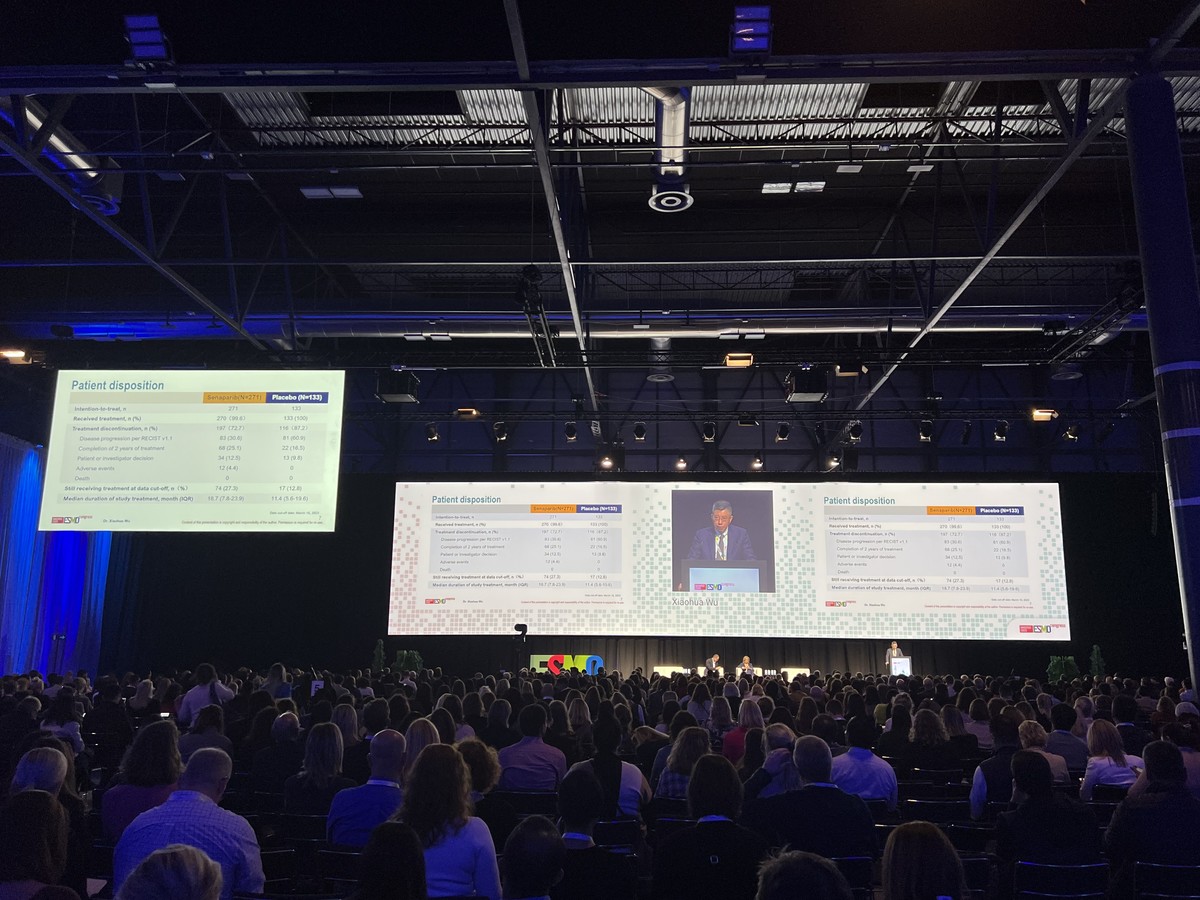 Highlights of the poster (refer to ESMO2023 for more details):
Title: Efficacy and Safety of Senaparib as Maintenance Treatment in Patients with Newly Diagnosed Advanced Ovarian Cancer (FLAMES Study): A Randomized, Double-blind, Placebo-controlled, Phase 3 Trial
Session:Gynaecological cancer
The FLAMES study enrolled newly diagnosed, FIGO stage III-IV, high-grade serous or endometrioid ovarian cancer patients who have completed 1L platinum-based chemotherapy with complete response (CR) or partial response (PR). They were randomized (2:1) to receive Senaparib or placebo 100 mg/day orally. The primary endpoint was progression-free survival (PFS) evaluated by blinded independent central review (BICR) according to RECIST v1.1.
As of March 16, 2023, the FLAMES met its primary endpoint at this predefined interim analysis. A total of 404 patients were enrolled,median follow-up duration was 22 months. Senaparib improved PFS over placebo (not reach vs 13.6m, HR 0.43, 95% CI 0.32-0.58, P < 0.0001). Regarding BRCAm status, median progression-free survival was NR with Senaparib and 15.6 months with placebo (HR 0.43, 95% CI 0.24–0.76; p=0.0026) in patients with BRCAm-positive patients, and NR and 12.9 months, respectively (HR 0.43, 95% CI 0.30–0.61; p<0.0001) in those with BRCAm-negative patients. Senaparib demonstrated a tolerable safety profile, with no new safety signals identified,and importantly, Senaparib showed a more favourable non-haematological safety profile compared with other PARP inhibitors.
"The vast majority of ovarian cancer is already advanced when diagnosed, and if maintenance therapy is not performed, the vast majority of patients will relapse 18 to 24 months after chemotherapy. Significant unmet medical need remains in this population of ovarian cancer patients despite the existing PARP inhibitors on the market. The findings of FLAMES demonstrate that Senaparib prolonged progression-free survival compared with placebo in newly diagnosed ovarian cancer after a response to first-line platinum-based chemotherapy, regardless of BRCAm status and Senaparib demonstrated a tolerable safety profile. The results support Senaparib as a maintenance treatment for patients with advanced ovarian cancer after a response to first-line platinum-based chemotherapy. We look forward to seeing Senaprib benefit ovarian cancer patients as soon as possible.", said Dr. Chih-Yi Hsieh, Chief Medical Officer of IMPACT Therapeutics.
"We are excited to present the primary endpoint of the FLAMES study for the first time at this year's ESMO Annual meeting. As a highly effective PARP inhibitor, Senaparib has demonstrated a consistent and reliable progression-free survival benefit with robust efficacy data and no new safety risks. The Senaparib NDA has been accepted for review by the China NMPA. We are looking forward to the approval of Senaparib, so that high-quality and accessible PARP inhibitors can be provided to ovarian cancer patients as soon as possible.",said Dr. Sui Xiong Cai, Chief Executive Officer of IMPACT Therapeutics.
Senaparib, discovered and developed by IMPACT Therapeutics, is a potent and novel PARP (1/2) inhibitor. Its distinctive molecular structure ensures exceptional target selectivity and wide safety window. Early-phase clinical trials demonstrated the promising anti-tumor effect of Senaparib, including significant efficacy in ovarian cancer patients, and has met its primary endpoint for advanced ovarian cancer maintenance treatment following first-line therapy in the pivotal FLAMES phase 3 study. In September 2023, Impact Therapeutics announced that the National Medical Products Administration (NMPA) has accepted the New Drug Application (NDA) for Senaparib in China, as a first-line maintenance treatment of adult patients with ovarian epithelial carcinoma, fallopian tube cancer or primary peritoneal cancer following a response to platinum-based chemotherapy. In addition, in August 2022, the fixed dose combination capsules of Senaparib and temozolomide for the treatment of adult patients with small cell lung cancer was granted orphan-drug designation by the U.S. Food and Drug Administration (FDA).
About IMPACT Therapeutics
IMPACT Therapeutics is a biopharmaceutical company dedicated to the discovery and development of targeted anti-cancer therapeutics based on synthetic lethality. IMPACT Therapeutics has assembled one of the most comprehensive DNA damage responses (DDR) global pipeline of novel drug candidates generated by in-house discovery efforts and is expanding to other novel synthetic lethality targets to broaden its pipeline. IMPACT pipeline products include PARP inhibitor (Senaparib/IMP4297), Wee1 inhibitor (IMP7068), ATR inhibitor (IMP9064),and PARP1 selective inhibitor (IMP1734, in collaboration with Eikon Therapeutics), as well as other novel DDR pathway inhibitors. The lead clinical program, PARP inhibitor (Senaparib/IMP4297), has successfully completed Phase III pivotal trial in ovarian cancer first-line maintenance (FLAMES study) setting with best-in-class efficacy and safety profile. Based on the results of the FLAMES study, The Senaparib New Drug Application (NDA) has been accepted for review by the National Medical Products Administration (NMPA) of China. Wee1 inhibitor IMP7068 and ATR inhibitor IMP9064 is undergoing global Phase I clinical study. PARP1 selective inhibitor IMP1734 has obtained IND clearance from FDA.