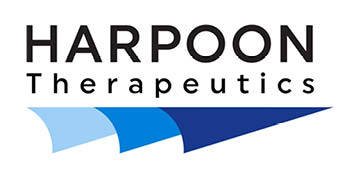 Harpoon grants AbbVie option to license worldwide rights to HPN217 (BCMA), a TriTAC for the treatment of multiple myeloma planned for IND filing this year
Expanded TriTAC discovery collaboration includes up to six additional targets selected by AbbVie
Two agreements provide for a total of $50 million in upfront and up to $50 million in a contingent milestone payment for first patient treated with HPN217 in a clinical trial
SOUTH SAN FRANCISCO, Calif. and NORTH CHICAGO, Ill., Nov. 21, 2019 (GLOBE NEWSWIRE) -- Harpoon Therapeutics, Inc. (NASDAQ: HARP), a clinical-stage immunotherapy company developing a novel class of T cell engagers, and AbbVie Inc. (NYSE: ABBV), a global biopharmaceutical company, today announced an exclusive worldwide option and license transaction for HPN217, Harpoon's B cell maturation antigen (BCMA)-targeting Tri-specific T cell Activating Construct (TriTAC®), and an expansion of their existing discovery collaboration for up to six additional targets. These agreements build upon the discovery collaboration established by the two companies in October 2017 and are expected to advance and broaden the use of Harpoon's proprietary TriTAC platform. The TriTAC platform produces novel T cell engagers targeting both solid tumors and hematologic malignancies.  
"Harpoon has built a unique and proprietary biologics platform that utilizes the cancer patient's own immune system to attack cancer. HPN217, targeting BCMA, is poised to advance to clinical development for the treatment of multiple myeloma," stated Gerald McMahon, Ph.D., President and Chief Executive Officer of Harpoon. "We believe AbbVie is the ideal partner for Harpoon to support the advancement of our BCMA program given the commercial focus of AbbVie in the treatment of this cancer. In addition, we look forward to expanding our discovery collaboration to include up to six additional molecular targets."
"Harpoon's BCMA TriTAC holds promise for myeloma patients, and their novel drug development engine, combined with AbbVie's development expertise, has the potential to generate innovative new medicines for patients with cancer," said Mohit Trikha, Ph.D., Vice President, Head, Oncology Early Development and AbbVie Bay Area Site Head. "Our collaboration with Harpoon has been productive and we look forward to further strengthening this collaboration."
Relating to the HPN217 license agreement, Natalie Sacks, M.D., Chief Medical Officer of Harpoon Therapeutics notes, "As our pipeline of initial TriTAC clinical candidates advance in prostate and ovarian cancers, we are thrilled to partner with AbbVie in pursuit of therapies geared towards hematologic cancers. With our efforts and expertise combined, we look forward to the initiation of our planned Phase 1/2 clinical trial with HPN217 in patients with multiple myeloma."
Under the terms of the license and option agreement, Harpoon granted to AbbVie an option to license worldwide exclusive rights to HPN217. Harpoon will be responsible for development of HPN217 through Phase 1/2 clinical trials. Upon exercise of the option, AbbVie will conduct all future clinical development, manufacturing and commercialization activities. AbbVie may exercise its option to license HPN217 after completion of the Phase 1/2 clinical trial. The license and option agreement represents a potential transaction value of up to $510 million in upfront, option and milestone payments, plus royalties on global commercial sales.
Under the terms of the expanded discovery collaboration agreement, AbbVie will receive worldwide exclusive rights to develop and commercialize two new TriTAC molecules engineered for two selected targets. AbbVie has the option to select up to four additional targets for a total of up to six new targets. For each selected target under the Amended Discovery agreement, Harpoon is eligible to receive up to $310 million in upfront and potential development, regulatory and commercial milestone payments, plus royalties on global commercial sales. Consistent with the existing discovery collaboration agreement, Harpoon and AbbVie will conduct certain initial research and discovery activities for each designated target, after which AbbVie will be solely responsible for further development and commercialization efforts.