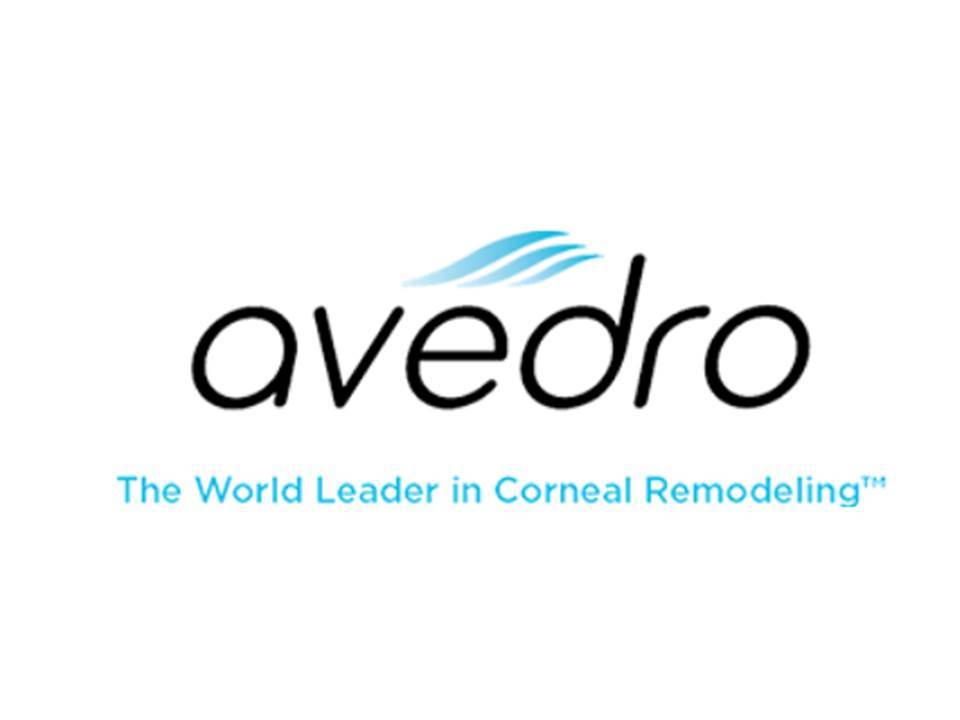 Adds Novel Bio-Activated Pharmaceuticals to Glaukos' New Corneal Health Franchise
Potential Revenue Synergies from Complementary Product Portfolios that Leverage Glaukos' Commercial Scale, Market-Building Experience and Shared Reimbursement Expertise and Customer Relationships
Expanded Pharmaceutical and Device Research, Development and Clinical Capabilities that Enhance Ability to Provide Innovative Hybrid Ophthalmic Therapies to Patients
Acquisition Expected to Accelerate Glaukos' Revenue Growth Rate in 2020 and be Accretive to Operating Results and Cash Flows by 2021
SAN CLEMENTE, Calif.--(BUSINESS WIRE)--Aug. 7, 2019-- Glaukos Corporation (NYSE: GKOS), an ophthalmic medical technology and pharmaceutical company focused on novel therapies for the treatment of glaucoma, corneal disorders and retinal diseases, and Avedro, Inc. (Nasdaq: AVDR), a leading hybrid ophthalmic pharmaceutical and medical technology company focused on treating corneal disease and disorders, today announced that the companies have entered into a definitive merger agreement under which Glaukos will acquire Avedro in an all-stock transaction. The transaction, which is subject to Avedro stockholder approval along with other customary closing conditions and regulatory approvals, has been approved by the board of directors of both companies and is expected to be completed in the fourth quarter of 2019.
The acquisition combines two complementary, hybrid ophthalmic pharmaceutical and device organizations and establishes the cornerstone for Glaukos' new corneal health franchise, providing synergistic avenues for potential long-term growth in large, underserved markets. Glaukos plans to leverage its proven market-building expertise, global commercial scale and extensive clinical and regulatory infrastructure to maximize Avedro's disruptive bio-activated pharmaceuticals and pipeline. The transaction also expands Glaukos' R&D capabilities and is expected to strengthen multiple corneal health and vision correction development initiatives now underway across both organizations.
"Avedro is an ideal fit for Glaukos' core strengths in creating and disrupting ophthalmic markets with novel therapies that address important unmet clinical needs of practitioners and patients," said Thomas Burns, Glaukos president and chief executive officer. "Avedro has in place many of the same strategic attributes Glaukosused to pioneer MIGS, including proprietary paradigm-changing solutions, extensive clinical validation, broad reimbursement and first-to-market status. Our combined organizations can possess the essential expertise, scale and reach to maximize these opportunities, drive further commercialization of Avedro's bio-activated pharmaceuticals and establish another synergistic and durable Glaukos franchise to fuel potential near- and long-term growth and shareholder value."
Avedro's platform uses its proprietary, bio-activated, single-use Photrexa® drug formulations to strengthen corneal tissue and halt progression of keratoconus, a degenerative corneal ectatic disease that affects approximately 1.1 million eyes in the United States. Typically diagnosed in a patient's teenage years, keratoconus is characterized by progressive thinning and weakening of the cornea, resulting in vision loss. Approximately 90% of cases are bilateral and as many as 20% of patients ultimately require a corneal transplant. Conventional treatments address symptoms but the Avedro platform is the first and only FDA-approved therapy that can stop disease progression. Avedro estimates the total U.S. opportunity for its keratoconus therapy to be approximately $3 billion.
Avedro has also developed a pipeline of novel single application bio-activated topical ophthalmic pharmaceuticals for common refractive conditions, including presbyopia, low myopia and post-cataract refractive error, which are estimated to have a combined U.S. addressable opportunity of approximately $23 billion.
"Avedro is extremely pleased with the potential to become part of Glaukos, a highly-respected ophthalmic organization with a successful track record forging new markets with disruptive technologies like our keratoconus pharmaceutical therapies," said Reza Zadno, Avedro president and chief executive officer. "Glaukos already has deep customer relationships with the majority of our target accounts, and a large, seasoned field organization that can unite with our team to accelerate awareness, adoption and utilization of our novel platform. In addition, Glaukos will bring its extensive clinical and regulatory resources to bear to help advance our promising pipeline therapies. I believe this transaction can benefit customers, employees and patients, while creating value for shareholders through ownership in a combined company with the expertise, scale and resources to drive meaningful future growth."
Key strategic and financial benefits of the transaction include:
Avedro fits perfectly with Glaukos' commercial organization: Roughly 700 of Avedro target accounts are comprehensive ophthalmic practices where Glaukos maintains deep relationships. In addition, the Avedro platform can benefit from a 5-fold increase in the size of its current 17-person U.S. field sales organization.
Avedro can accelerate Glaukos' growth trajectory: Avedro generated 66% year-over-year revenue growth in the first half of 2019. Once combined, the addition of Avedro's fast-growing product portfolio is expected to generate revenue growth acceleration for Glaukos beginning in 2020 and potential revenue synergies beginning in 2021.
Furthers Glaukos' hybrid strategy: Avedro and Glaukos have similar and complementary hybrid pharmaceutical and device profiles that can combine to create a unique set of R&D, clinical, regulatory and commercial capabilities with the potential to enhance organizational success.
Enhances organic pipeline initiatives and R&D teams: The combined R&D and clinical organization can provide Glaukos with scale and a unique blend of integrated expertise across ophthalmic pharmaceuticals, drug delivery, micro-scale engineering, and hardware and software development.In addition, an expanded pipeline can provide new opportunities to extend leadership positions in high-growth ophthalmic markets.
Provides attractive financial benefits and potential shareholder value creation: In addition to the potential for accelerated revenue growth, Glaukosanticipates achieving annualized cost savings in excess of $15 million by 2021, primarily through reduced public company and administrative costs. As such, the company expects the transaction to be accretive to operating results and cash flow by 2021.
Transaction Terms and Approvals
Under the terms of the merger agreement, for each share of Avedro common stock they own, Avedro shareholders will receive an exchange ratio equivalent of 0.365 shares of Glaukos stock.
Based on the parties' volume weighted average prices ("VWAPs") for the last 60 trading days prior to August 6, 2019, the transaction represents a 42% premium for Avedro shareholders. Upon closing, Glaukos shareholders are expected to own approximately 85% of the combined company, with Avedro shareholders expected to own the remaining 15%.
The transaction is subject to customary closing conditions and regulatory approvals, including approval of the merger by stockholders of Avedro. Certain shareholders of Avedro, including OrbiMed, HealthQuest and LAV Agile, which collectively own approximately 41% of the outstanding shares of Avedro common stock, have entered into voting agreements to vote in favor of the transaction.
Advisors
Perella Weinberg Partners LP is serving as financial advisor to Glaukos, and O'Melveny & Myers LLP is serving as its legal advisor. Guggenheim Securities is serving as financial advisor to Avedro and Cooley LLP is serving as its legal advisor.
About Glaukos
Glaukos (www.glaukos.com) is an ophthalmic medical technology and pharmaceutical company focused on novel therapies for the treatment of glaucoma, corneal disorders and retinal diseases. The company pioneered Micro-Invasive Glaucoma Surgery, or MIGS, to revolutionize the traditional glaucoma treatment and management paradigm. Glaukos launched the iStent®, its first MIGS device, in the United States in July 2012 and launched its next-generation iStent inject® device in the United States in September 2018. Glaukos is leveraging its platform technology to build a comprehensive and proprietary portfolio of micro-scale surgical and pharmaceutical therapies in glaucoma, corneal health and retinal disease.
About Avedro
Avedro is a leading hybrid ophthalmic pharmaceutical and medical technology company focused on treating corneal disease and disorders and improving vision to reduce dependency on eyeglasses or contact lens. Avedro's proprietary bio-activated pharmaceuticals strengthen, stabilize, and reshape the cornea to treat corneal ectatic disorders and correct refractive conditions. Avedro's suite of single-use drug formulations are applied to the cornea and bio-activated to induce a reaction called corneal collagen cross-linking.