【18 March 2019, Hong Kong】 CanSino Biologics Inc. (康希諾生物股份公司) ("CanSinoBIO" or the "Company"; stock code: 6185), announces the proposed listing of its H Shares on the Main Board of The Stock Exchange of Hong Kong Limited ("SEHK") today.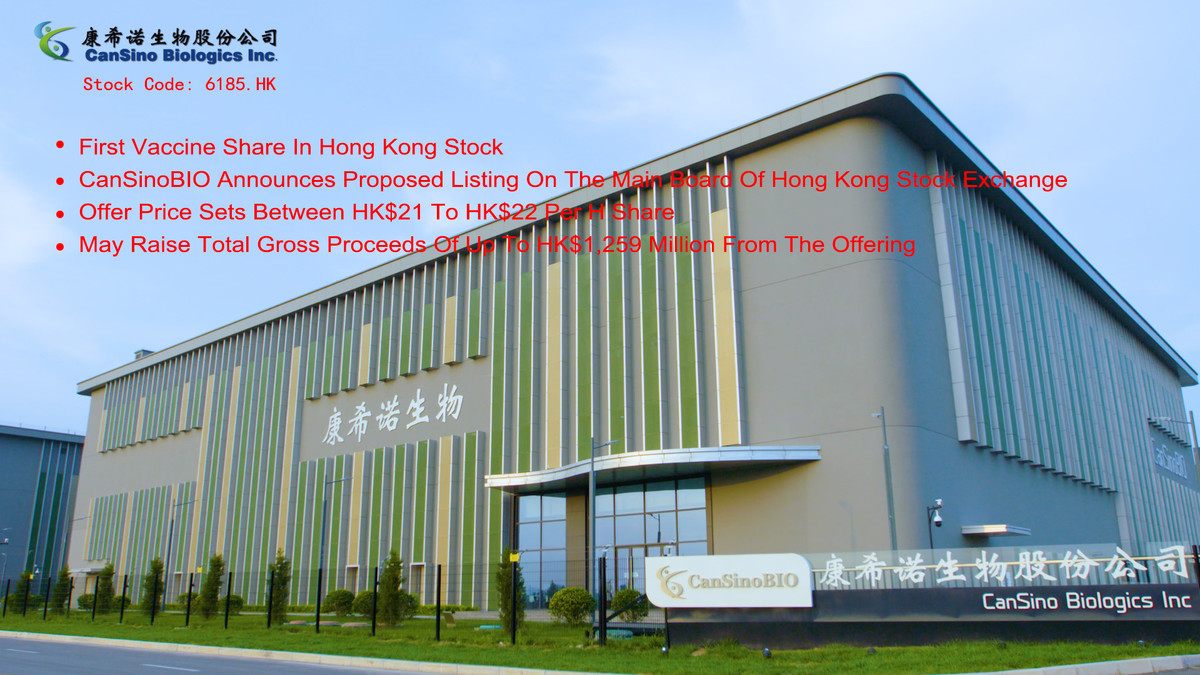 CanSinoBIO offers an aggregate of 57,248,600 H Shares in the Global Offering, of which 5,725,200 Shares are Hong Kong Offer Shares and 51,523,400 Shares are International Offer Shares at an offer price ranging between HK$21 and HK$22 per Share. It may raise total gross proceeds of up to HK$1,259 million from the offering. The Hong Kong Public Offering opened at 9:00 am on 18 March 2019 (Monday) and will close at 12:00 noon on 21 March 2019 (Thursday). It is expected that dealings in the H Shares on the SEHK will commence at 9:00 am on 28 March 2019 (Thursday) with the stock code 6185.HK. The H Share will be traded in board lots of 200 H Shares each.
Morgan Stanley Asia Limited and CLSA Capital Markets Limited are the Joint Sponsors. Morgan Stanley Asia Limited, CLSA Limited and China International Capital Corporation Hong Kong Securities Limited are the Joint Global Coordinators. Morgan Stanley Asia Limited, Morgan Stanley & Co. International plc, CLSA Limited, China International Capital Corporation Hong Kong Securities Limited, ICBC International Capital Limited and CMB International Capital Limited are the Joint Bookrunners. Morgan Stanley Asia Limited, Morgan Stanley & Co. International plc, CLSA Limited, China International Capital Corporation Hong Kong Securities Limited, ICBC International Securities Limited and CMB International Capital Limited are the Joint Lead Managers.
As the first vaccine share in Hong Kong Stock, CanSinoBIO has the mission to develop, manufacture and commercialize high quality, innovative and affordable vaccines, providing safer and more efficient vaccine products for public health and safety in China and globally while creating value for investors. In the past 10 years, the Company has been dedicating to seeking the innovative vaccine key technologies as well as researching and developing products. In the future, the Company will accelerate the commercialization of its vaccine products, focusing on the expanding demand in emerging markets of high-quality vaccines in China and internationally.
Vast and Underserved Market in China
China is the world's largest market for the potential demand of vaccine for human use, but China's per capita spending on vaccines was only US$2.9 in 2017, which is less than 6% of the US. Vaccine product in China for human use has great potential in scale and quality. The scale of China's vaccine market for human use is expected to reach RMB100.9 billion in 2030 at a CAGR of 11.2% from 2017 to 2030, of which private vaccine market at a CAGR of 12.3% from 2017 to 2030, amounting for more than 90% in market share. CanSinoBIO's comprehensive and robust vaccine pipeline aims to address the vast and underserved market.
CanSinoBIO began building its commercialization infrastructure with a primary focus on China's private vaccine market. It is expected that five major factors will drive the development of China's vaccine market: increasing availability of high-quality vaccines, untapped adult market with increasing aging population, increasing awareness of the benefits of vaccination, increasing affordability of vaccines in the private market and increasing government expenditure and policy support of preventive healthcare. In this process, enterprises with core technologies, innovative product pipeline and international perspective will gain greater competitive advantage.
Executive Team with Extensive Experience in the Transnational Vaccine Industry
The Company's founders and management operations team are veterans of the vaccine industry including world-class scientists with a record of leading the development of innovative international vaccines at global pharmaceutical companies such as Sanofi Pasteur, AstraZeneca and Wyeth (now Pfizer), having extensive experience in global vaccine development trends and commercial operations. Other management members are also vaccine industry veterans in product registration, vaccine production quality control and vaccine marketing management from leading multi-national and domestic biologics companies.
Diversified Innovative Vaccine Product Pipeline
CanSinoBIO has 15 vaccine candidates for 12 disease areas and 3 near-commercial candidates. CanSinoBIO's NDA-ready MCV4 candidate is a potential first-in-class vaccine for prevention of meningitis in China, to replace current polysaccharide vaccines with higher quality world-class vaccines. CanSinoBIO's NDA-filed MCV2 candidate is a potential China best-in-class bi-valent meningococcal vaccine. Both MCV4 candidate and MCV2 candidate have demonstrated a superior safety profile and immunogenicity in phase III clinical trial.
Moreover, the Company's globally innovative vaccine Ad5-EBOV is the first approved Ebola virus vaccine in China for emergency use and national stockpile. As compared to competing products from multi-national companies, CanSinoBIO's Ad5-EBOV has shown a better stability profile and does not require ultra-low temperature storage conditions.
In addition to the 3 near-commercial assets, the Company has 6 vaccine candidates in clinical trial stage or CTA stage and 6 pre-clinical vaccine candidates. China's DTP vaccine market is expected to enjoy a fast-paced expansion in the next decade with its sales revenue increasing from RMB1.9 billion in 2017 to RMB8.2 billion in 2030 at a CAGR of 12.2%. CanSinoBIO is developing a potential China best-in-class DTcP vaccine for infants, to replace current mainstream vaccines with higher quality world-class vaccines. Comparing with co-purified DTaP vaccines currently widely used in China, CanSinoBIO's DTcP Infant candidate has fixed and well-defined DTcP antigen composition with fewer side effects and conveys better and more consistent immunogenicity. At the same time, the Company is developing a potential China first-in-class DTcP booster vaccine in order to replace the DT vaccine currently used in China. Moreover, the Company's Tdcp Adolescent and Adult candidate is a potential global best-in-class vaccine developed to compete against world-class vaccines. Currently there is no approved DTP booster vaccine for adolescents and adults in China.
At the same time, China's pneumococcal vaccine market is a private vaccine market,which is expected to increase to RMB14.2 billion in 2030 at a CAGR of 18.8% from 2017 to 2030. CanSinoBIO is developing two potential blockbuster vaccines preventing pneumococcal diseases, which are potential China best-in-class PCV13i candidate and globally innovative PBPV vaccine candidate. The Company is also developing a globally innovative Tuberculosis booster vaccine candidate.
Advanced Vaccine R&D Platform Technologies
Technology is the foundation for the Company's ability for continuous innovation. Contributing by the robust experience and technological know-how of CanSinoBIO's Founders, CanSinoBIO has developed four platform technologies including adenovirus- based viral vector vaccine technology, conjugation technology, protein structure design and recombinant technology and formulation technology that cover key advanced technologies in vaccine development. Moreover, the platform technologies complement each other and produce a synergistic effect for research and development efforts, enabling the Company to build a comprehensive portfolio of vaccine products and develop vaccines in a cost-effective manner. These platform technologies ensure that the Company has the ability to continuously innovate and gain more comparative advantages in the future market competition.
International Standard Manufacturing Facility and Quality Management System
CanSinoBIO owns and operates a commercial-scale manufacturing facility with a gross floor area of approximately 37,000 m2 that is designed, constructed and operated to meet international standards. The facility has an annual bulk production capacity of approximately 70 million to 80 million doses, which will be fully capable of supporting the commercialization plans for near-commercial candidates as well as supporting manufacturing of clinical trial materials. Furthermore, the Company has applied a comprehensive quality management from vaccine research, development and manufacturing. CanSinoBIO's R&D facilities are designed according to global standards. CanSinoBIO's GMP pilot plants in research and development center have passed EMA's QP inspection.
Dr. Xuefeng Yu, Chairman and Co-founder, said, "In the future, CanSinoBIO will plan to advance development and commercialization of near-commercial assets; rapidly advance development of pipeline of other vaccine candidates; establish and strengthen our commercialization infrastructure; and build on our strengths through global collaborations and acquisition opportunities. CanSinoBIO is a team with an international outlook and a deep understanding of the needs of the Chinese market. Our technology and products are equally competitive on an international scale. Over the past 10 years, we have been committed to innovating vaccines and product reserves. In the future, we will focus on bringing our products to market. China will be our biggest market, but not only focus on China. We believe that Chinese vaccine companies can also be competitive comparing with the world's leading companies."